Welcome Home Veterans!
When you are in the area stop by the Post and get acquainted. We honor your service and sacrifice as well as that of your family. Whether you are a local, here for a short vacation, or a regular seasonal visitor you will always receive a warm welcome at Southwest Florida's friendliest VFW Post. You're not a member yet? Come on and join us. The requirements are pretty simple. Just be a US Military veteran who has honorably served in a combat zone within some specific dates as determined by the US Congress. Since the Korean war has yet to be resolved, everyone serving in Korea from the onset of the war to this day is eligible for membership in the VFW. Any questions, just stop by the Post and we will be happy to assist you


Located at 3725 Cape Haze Drive - Rotonda West, Florida 33947 (Phone 941-697-1123)
E-mailvfwsitecontrol@gmail.com

From May 1st through September 1st the Post opens
at 10:00 AM on Monday through Saturday and 11:00 AM on Sunday.
Karaoke or live music every Friday and some Saturday nights.

---

Thank you for stopping by. Check back often!
A membership application can be found under the Post & Family tab. Join today!
The October 2014 Ladies Auxiliary, and the District 10 Newsletters have been posted on the Liberty Letter tab as of October 1st, 2014

Last update - October 1st, 2014

---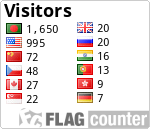 Counter installed 1-27-2012